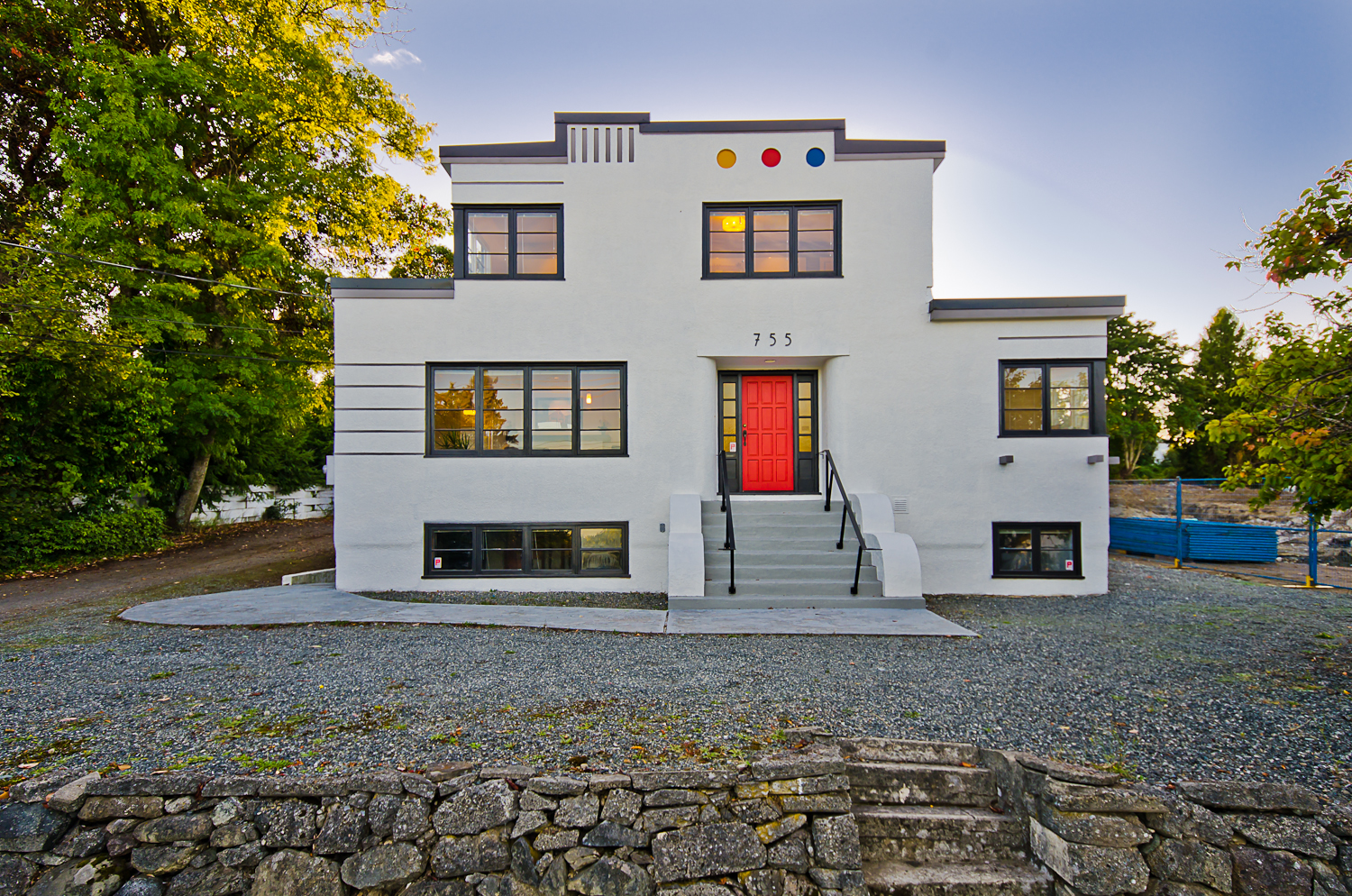 755 Terminal
Front elevation after repainting.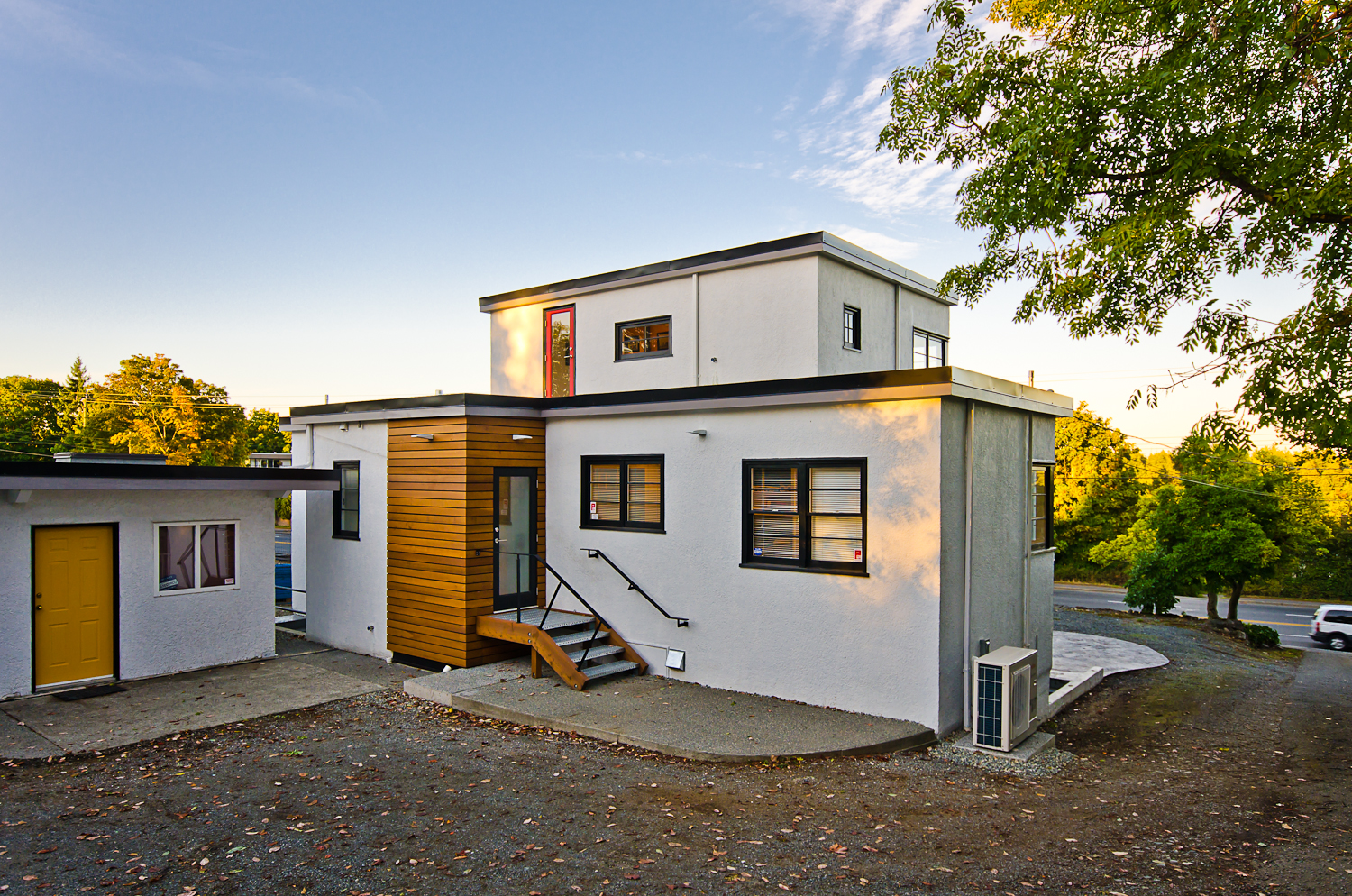 755 Terminal
Rear Elevation with filled in porch and new stairs.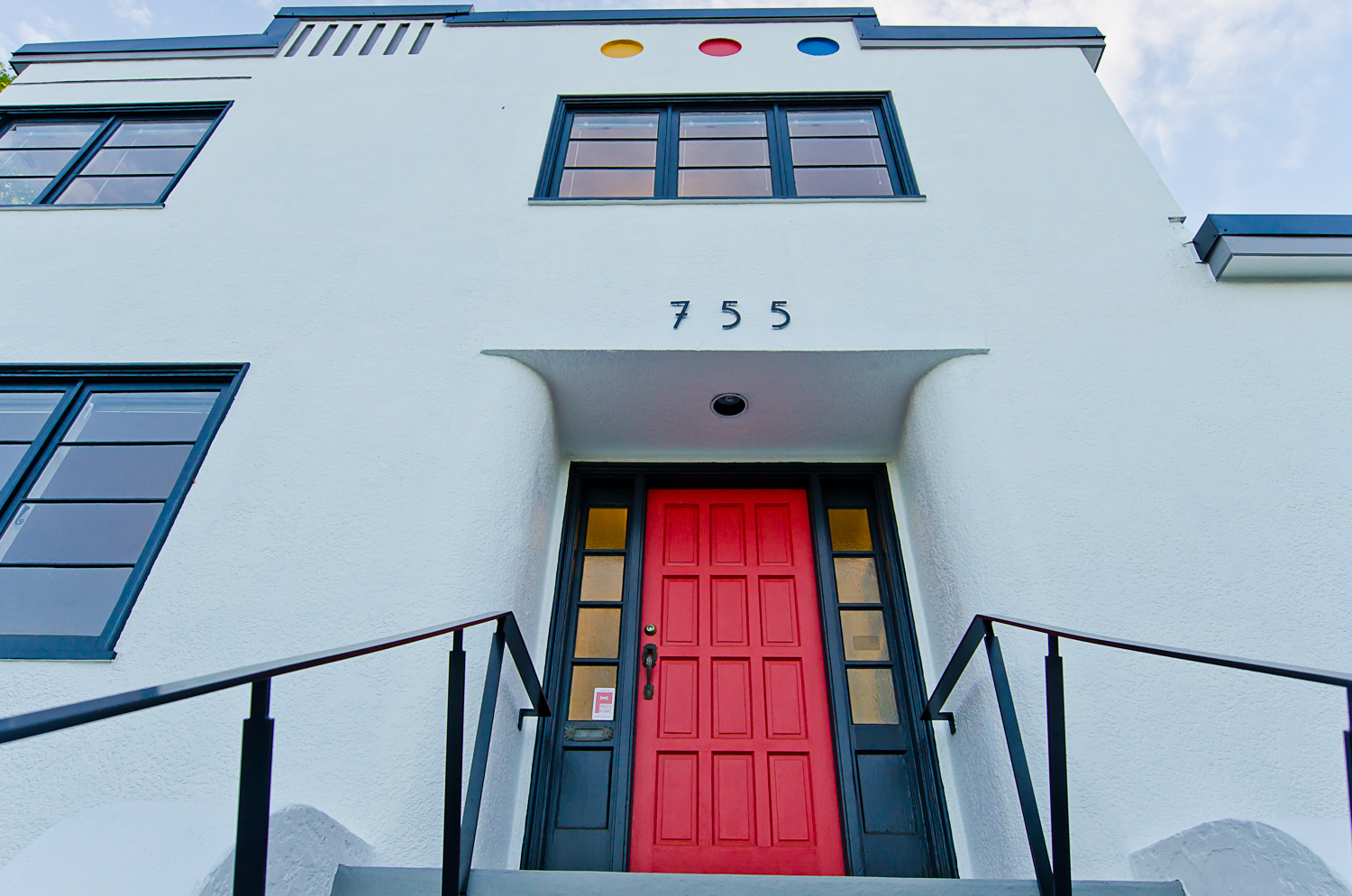 755 Terminal
Original door, sidelights, and mail slot. New Art Moderne house numbers and steel handrails. The three recessed circles painted primary colours from the interior colour scheme.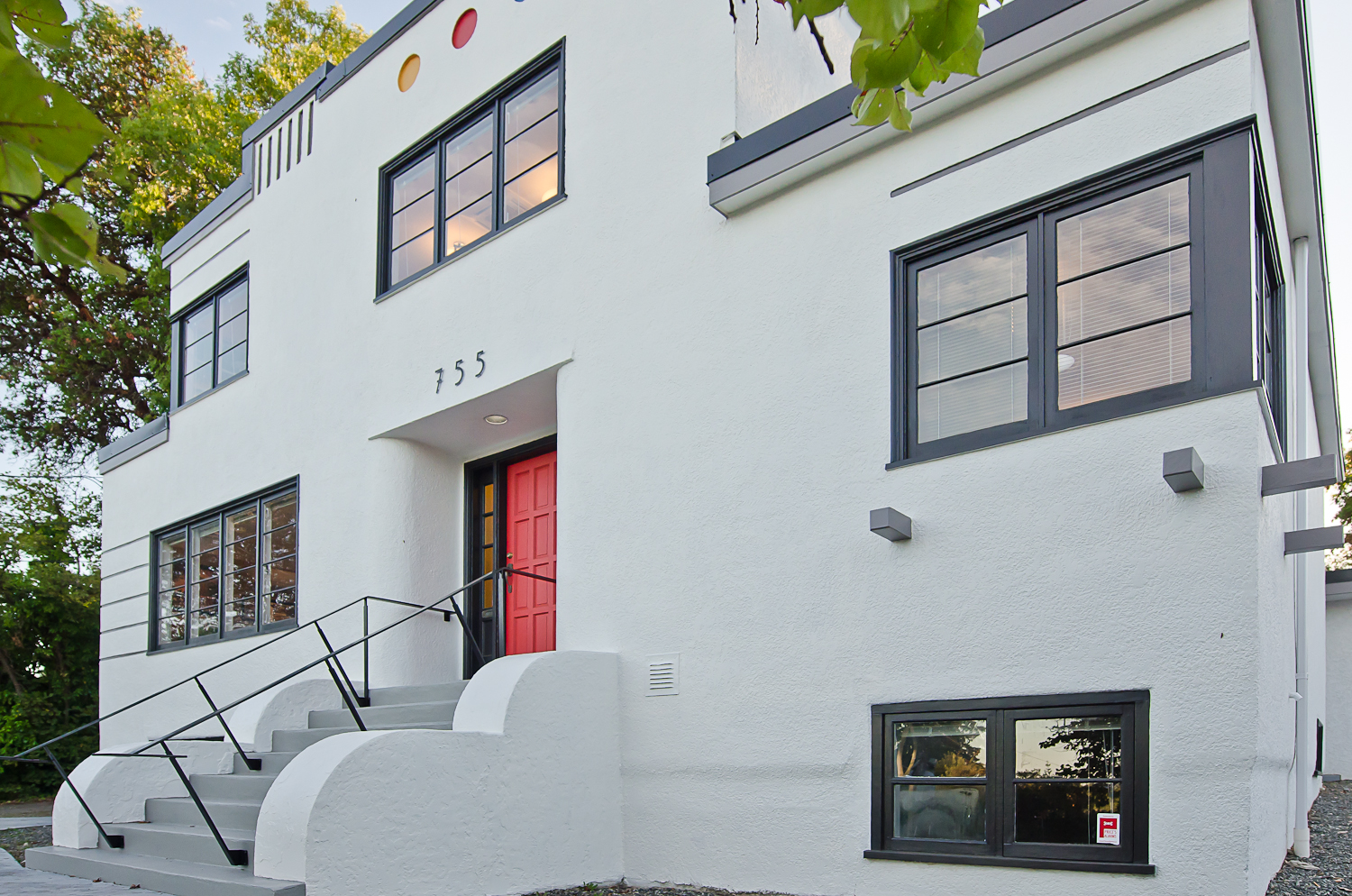 755 Terminal
Rear entry with recycled galvanized cable trays for stair treads.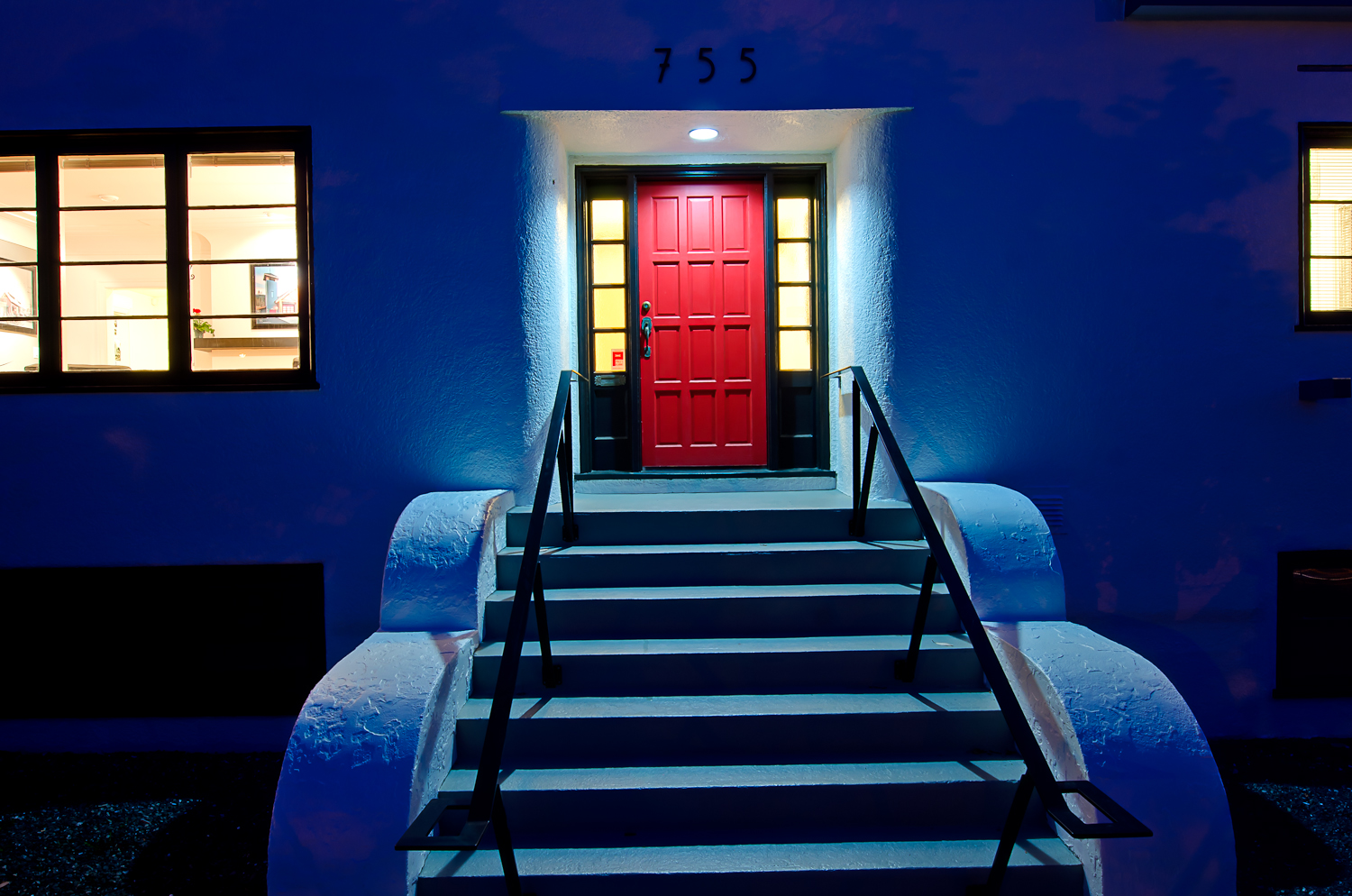 755 Terminal
Night time shot of front entry.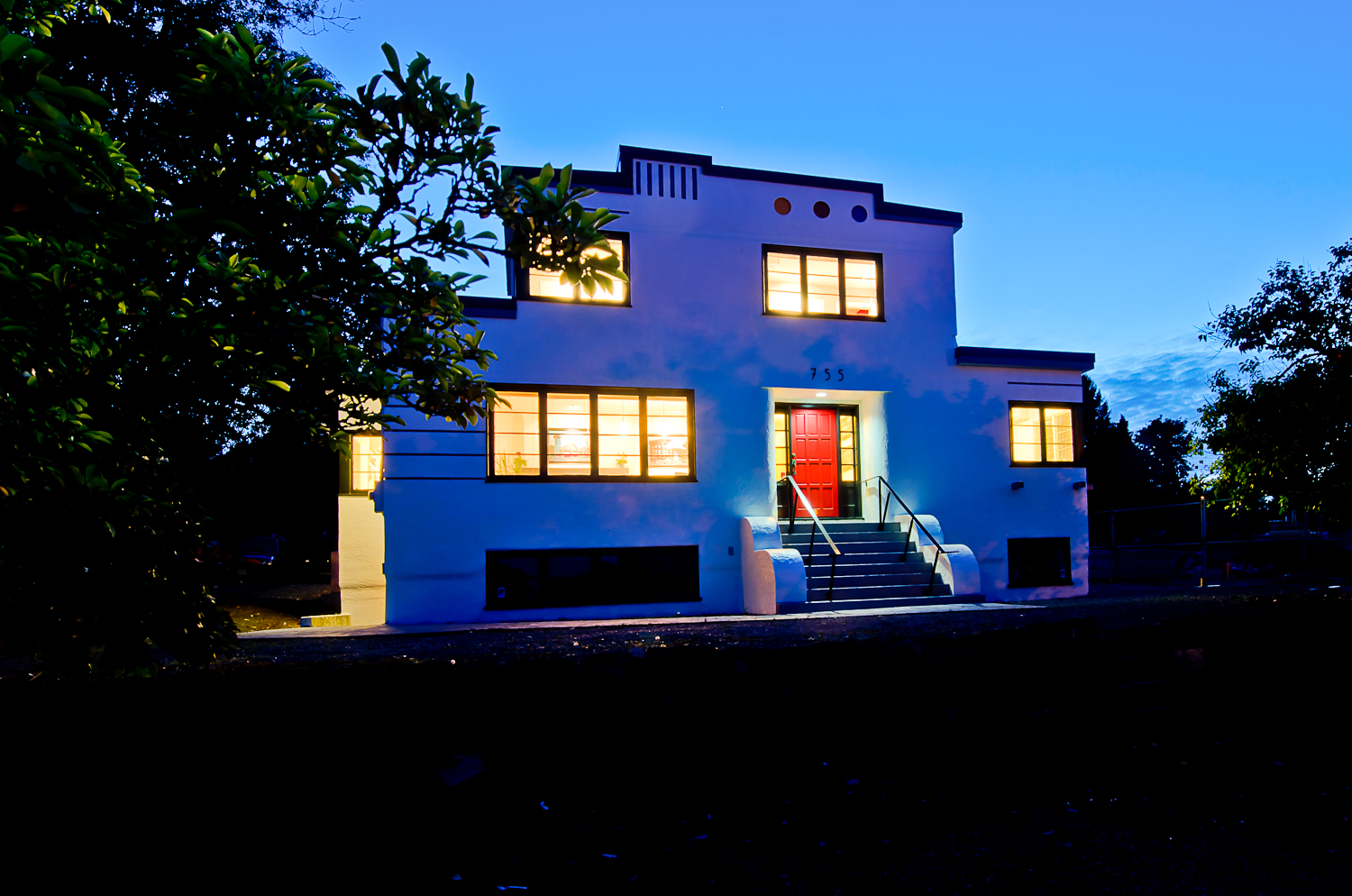 755 Terminal
Two original bedrooms converted to boardroom. Features recycled maple bowling alley table top from Mayfair Lanes in Victoria. I played on this bowling alley when I was a kid! Period correct reproduction Eames EA117 chairs.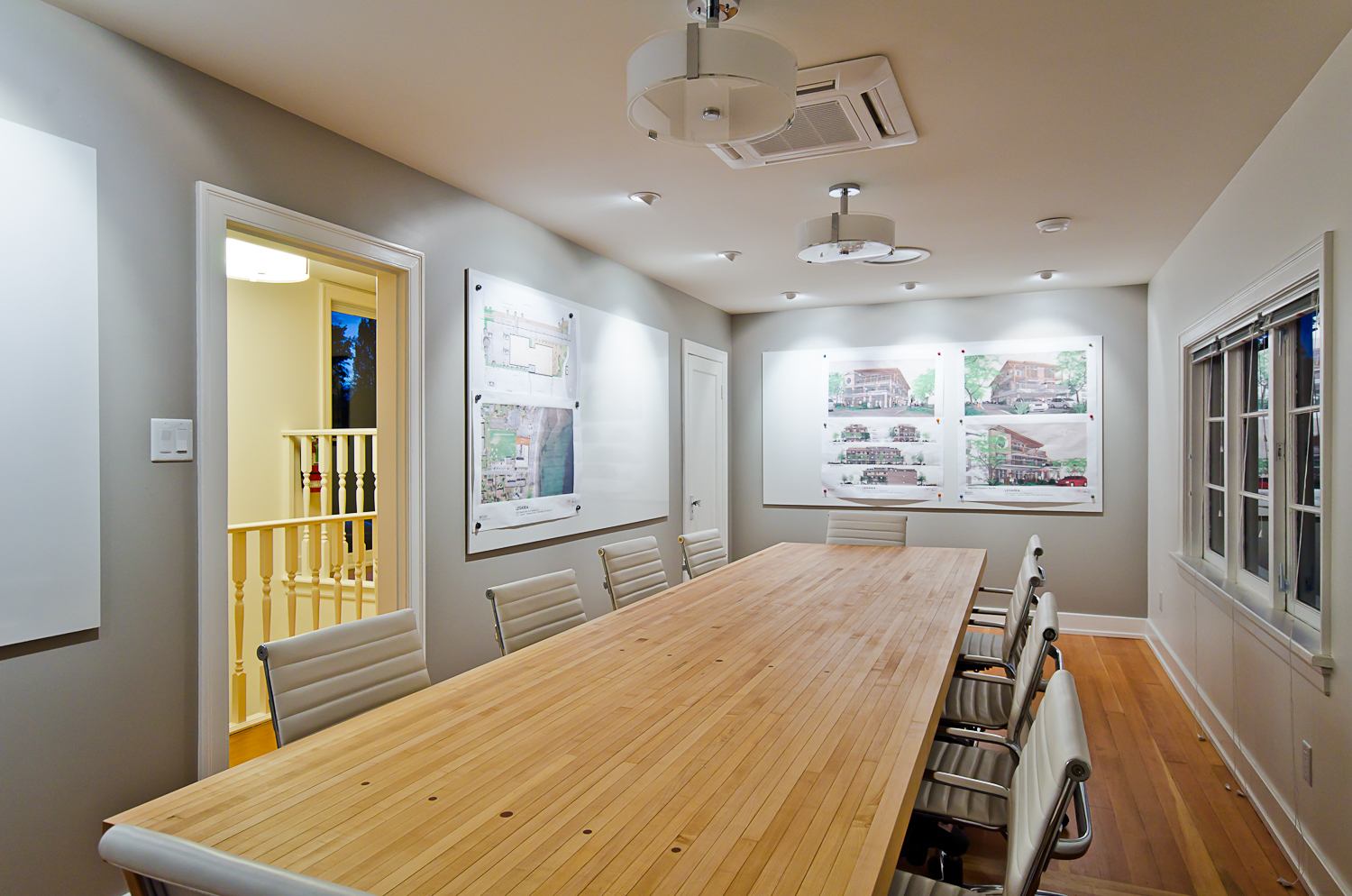 755 Terminal
Boardroom with magnetic white boards, heat pump diffuser, and adjustable halogen lighting.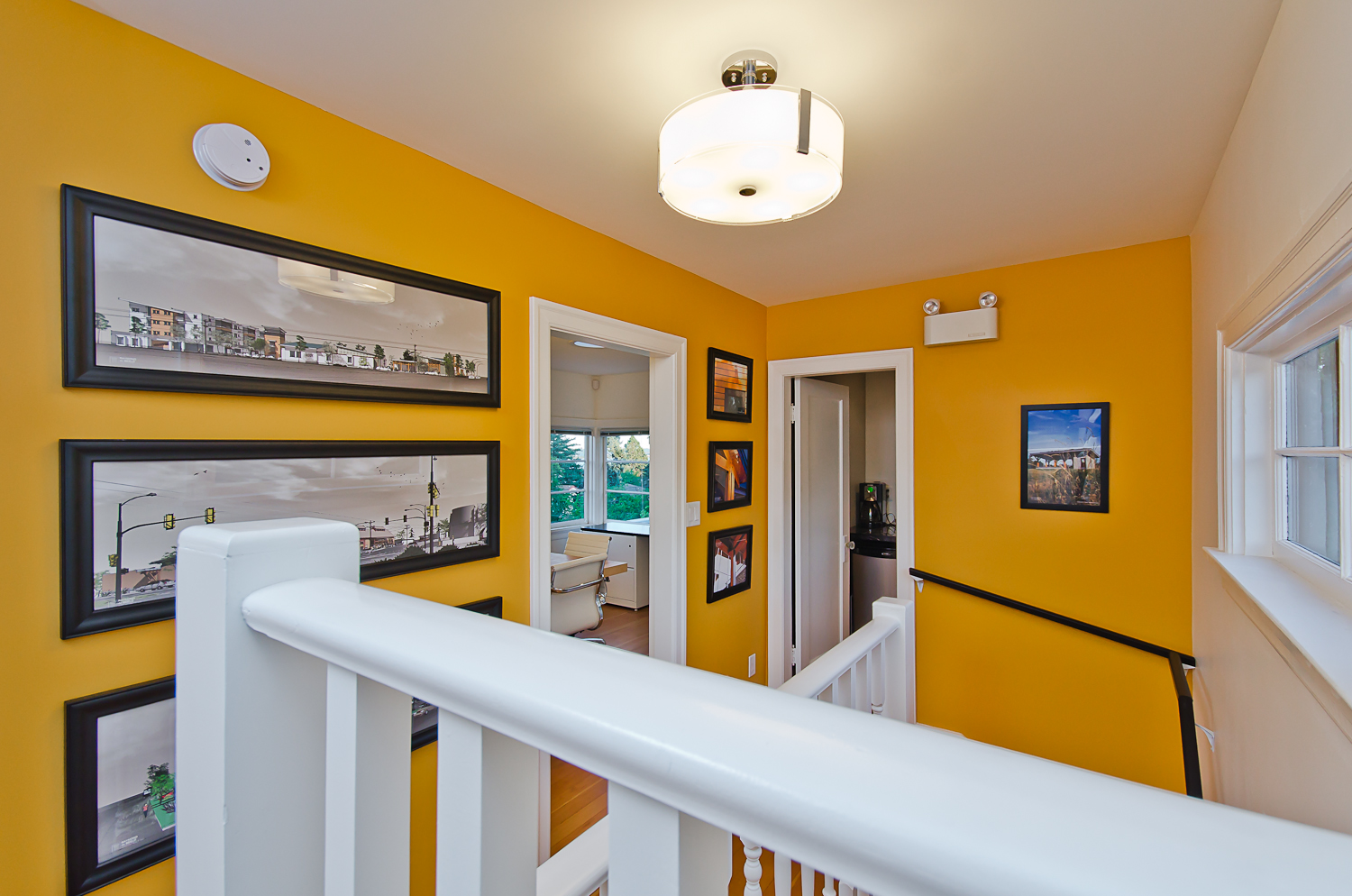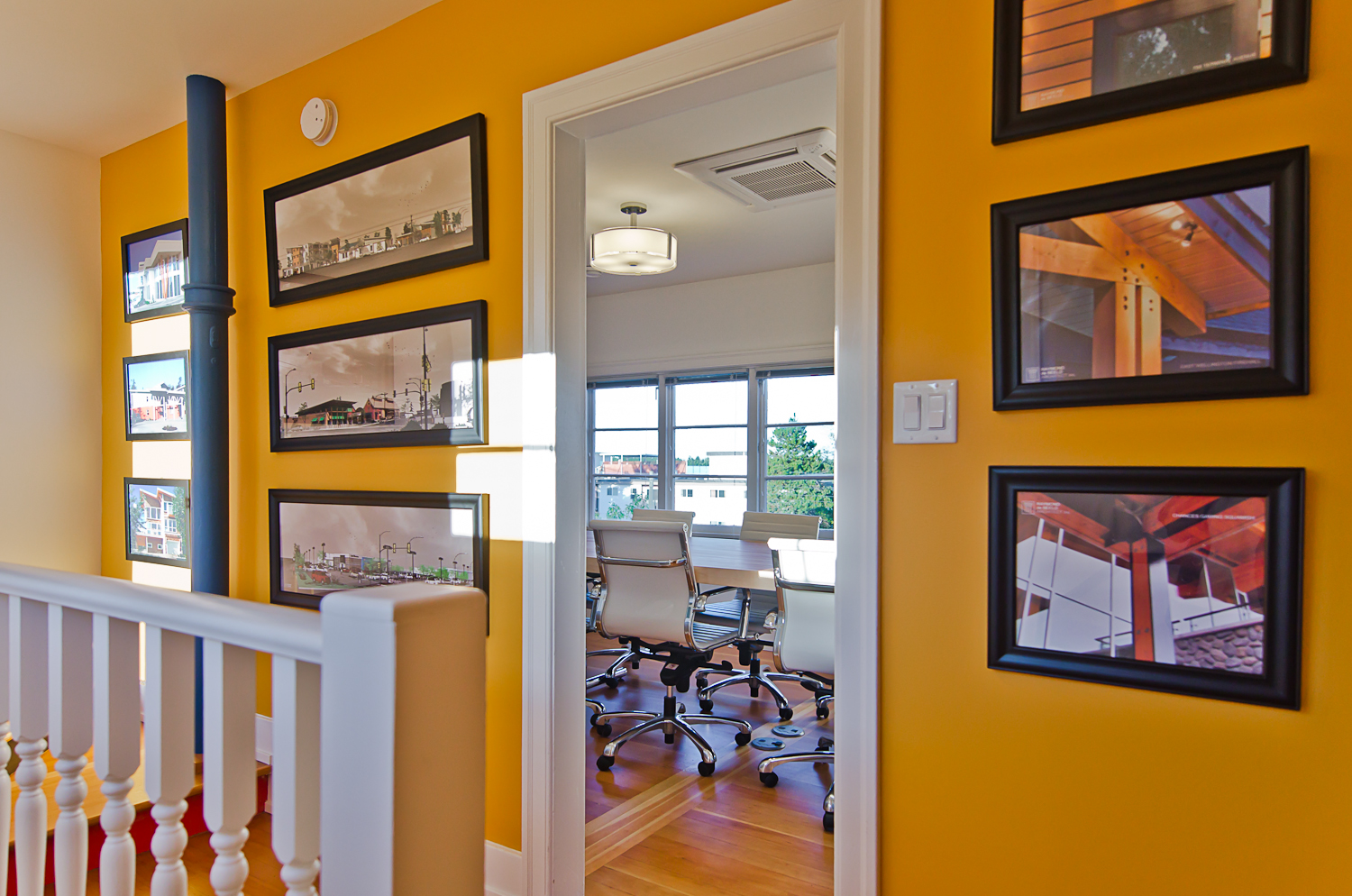 755 Terminal
Upper floor corridor with exposed blue vent stack from basement washroom.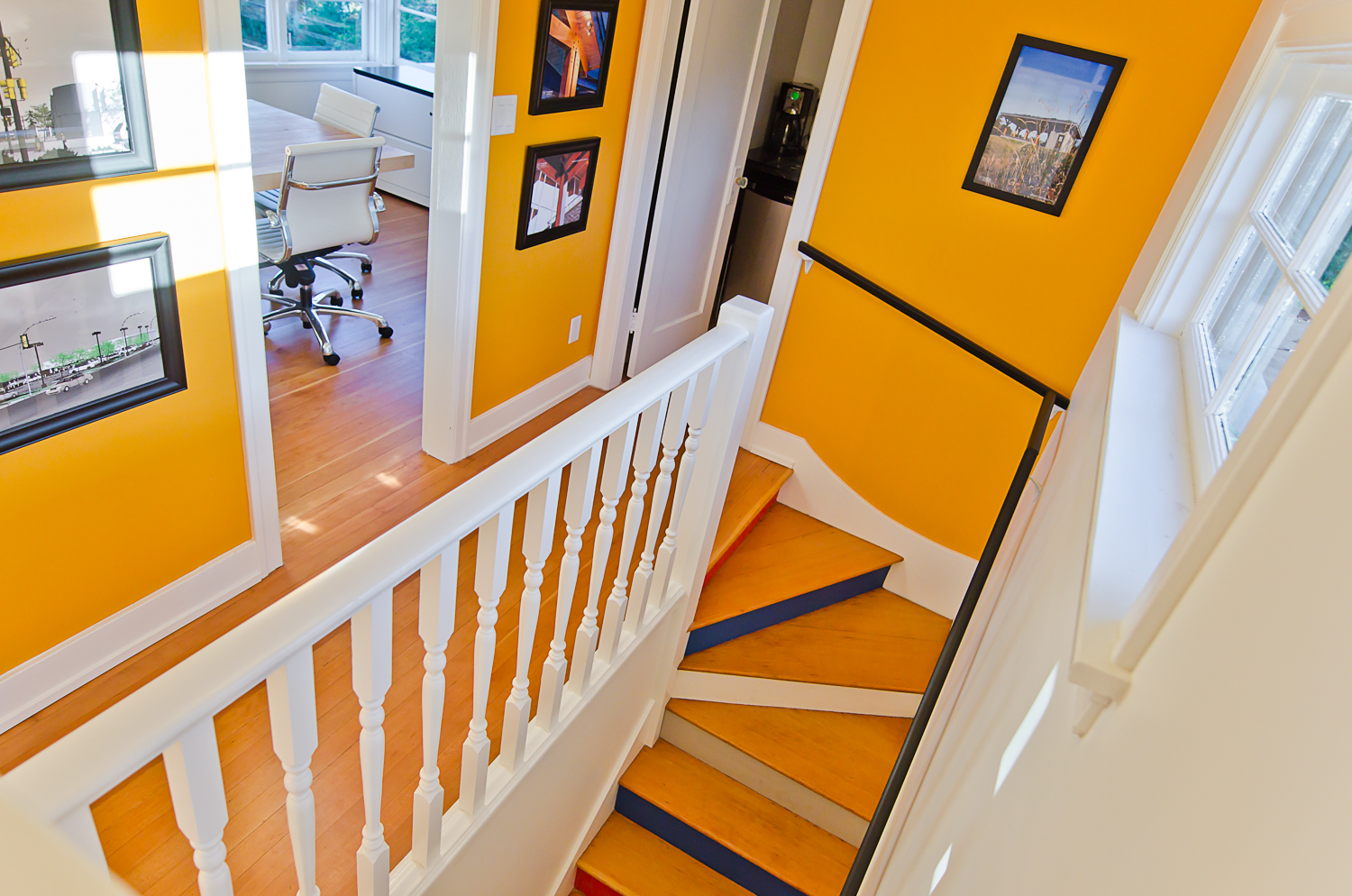 755 Terminal
Original stairs refinished and repainted in Bauhaus/ Piet Mondrian inspired paint scheme.
755 Terminal
Former bedroom closet converted to storage room with a view.
755 Terminal
Conversion of former bedroom closet for black, grey, white kitchenette, featuring Torus Mable countertops (inspired from our trip to Turkey).
755 Terminal
'Million dollar' red walls and contemporary crystal chandelier. Took 5 hrs to hang all those crystals. Counter top with recycled fir from the basement ceilings. Toto wall hung toilet, a space saver for such a narrow washroom.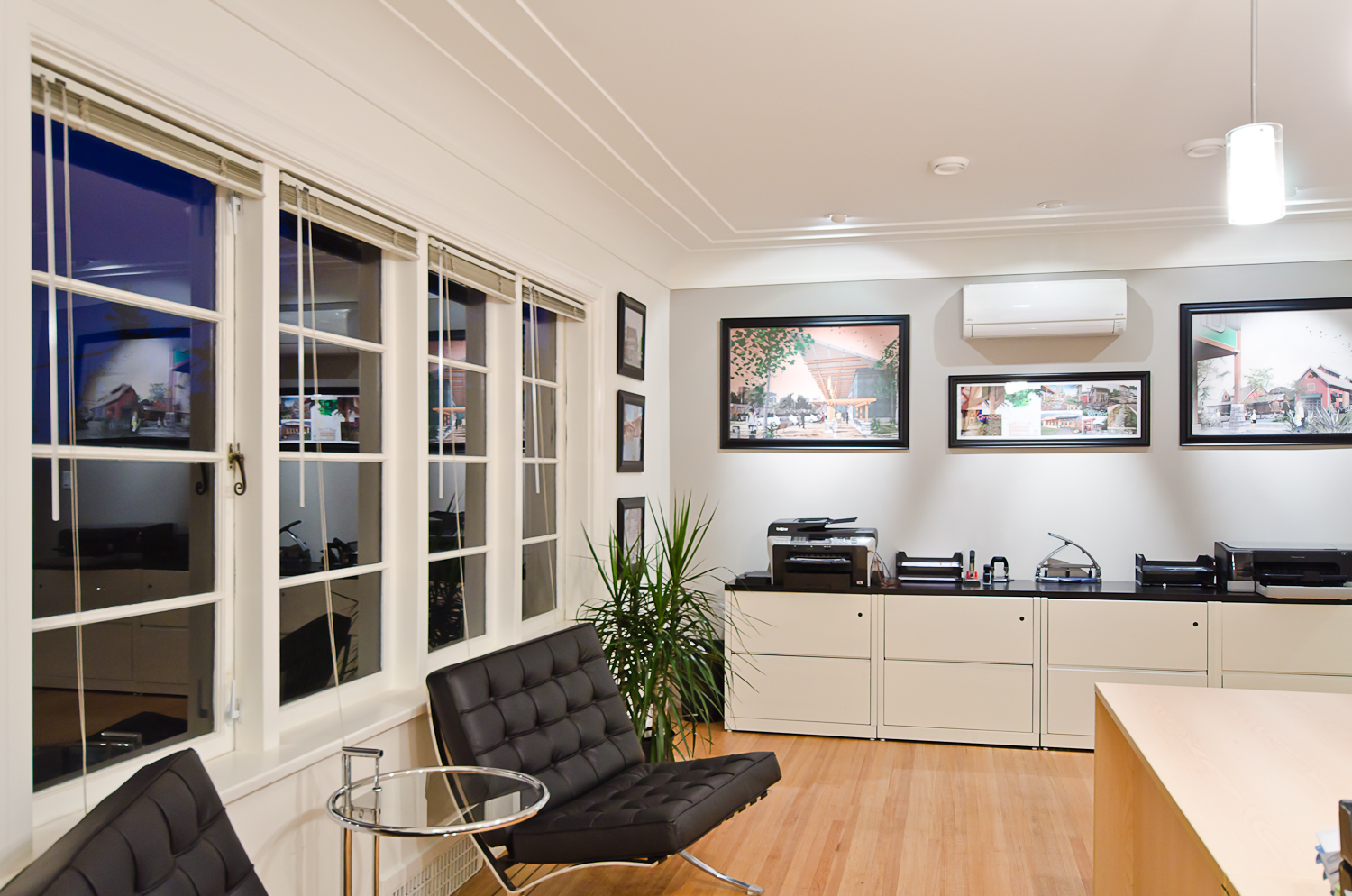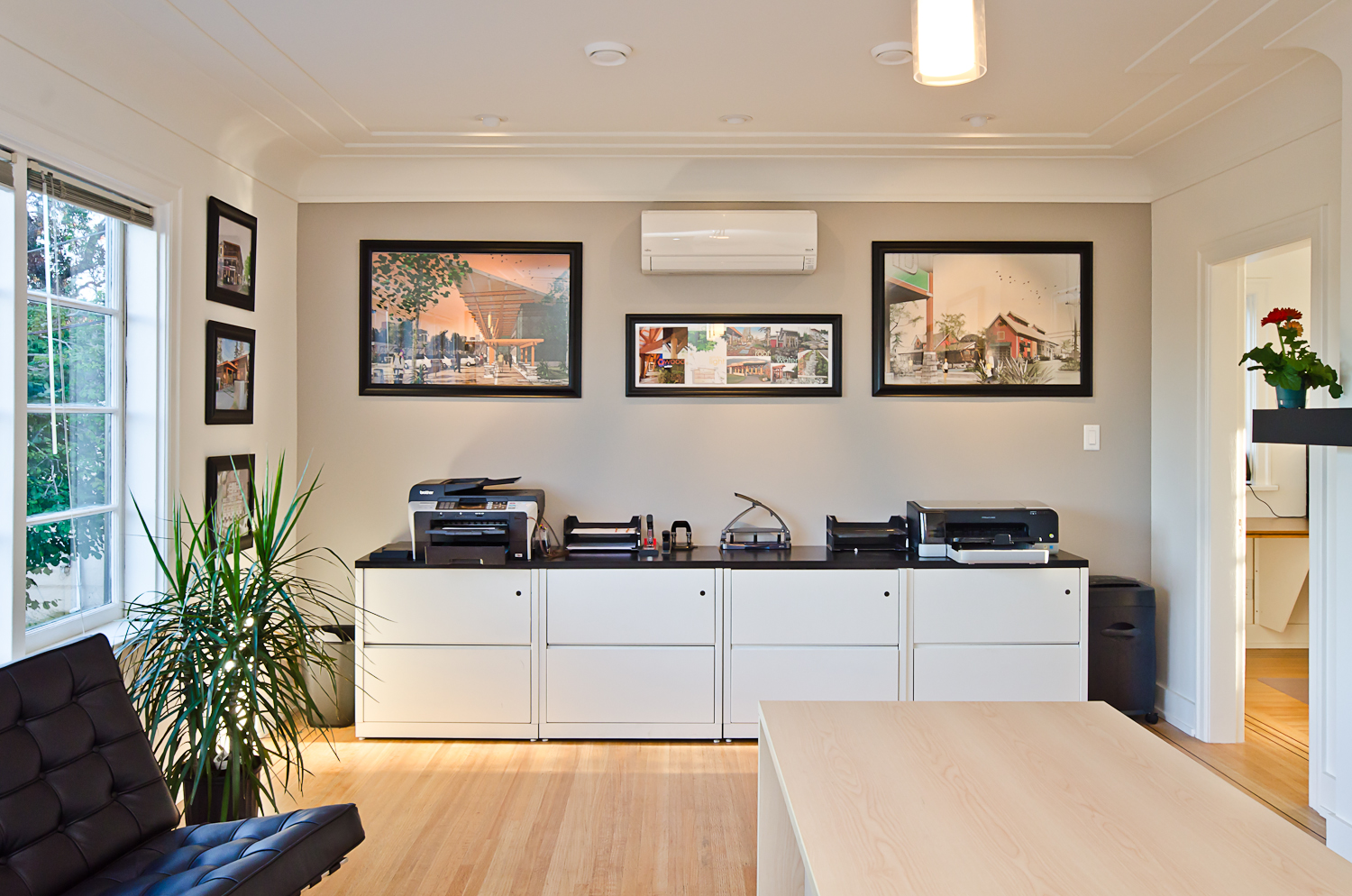 755 Terminal
Former living room converted to main reception/ common workspace, featuring period 'Barcelona' chairs, Mies van der Rohe (1929) and 'E 1027 Table', Eileen Grey (1927).
755 Terminal
'Mexique Wall Divider', Charlotte Perriand (1953), inspired period shelving made from recycled fir fascias from Metro Toyota in Duncan. Bulkheads around the recessed shelving hide new vertical and horizontal ductwork.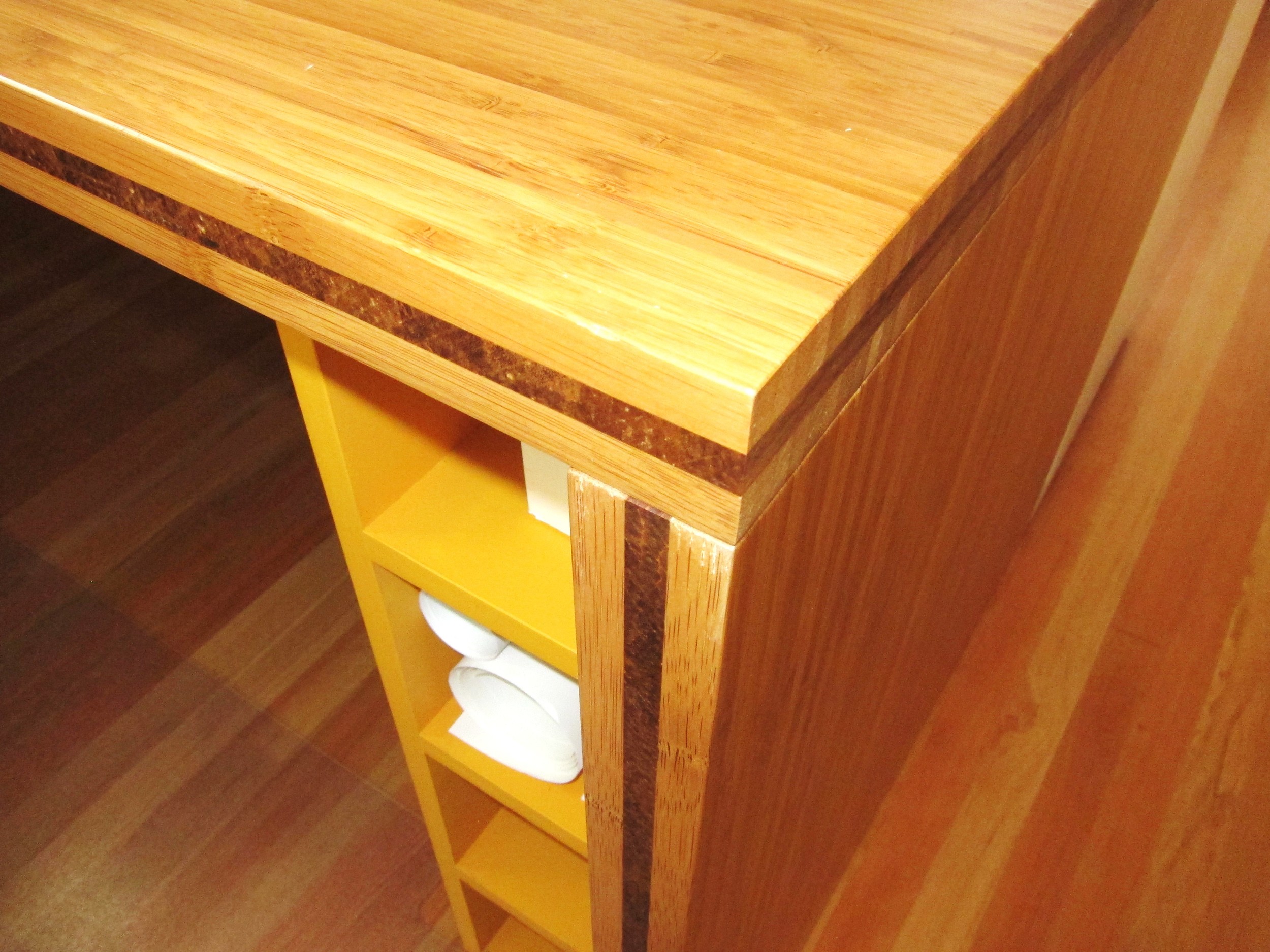 755 Terminal
Teragren bamboo and coconut shell workstations with Bauhaus coloured drawing cubbies.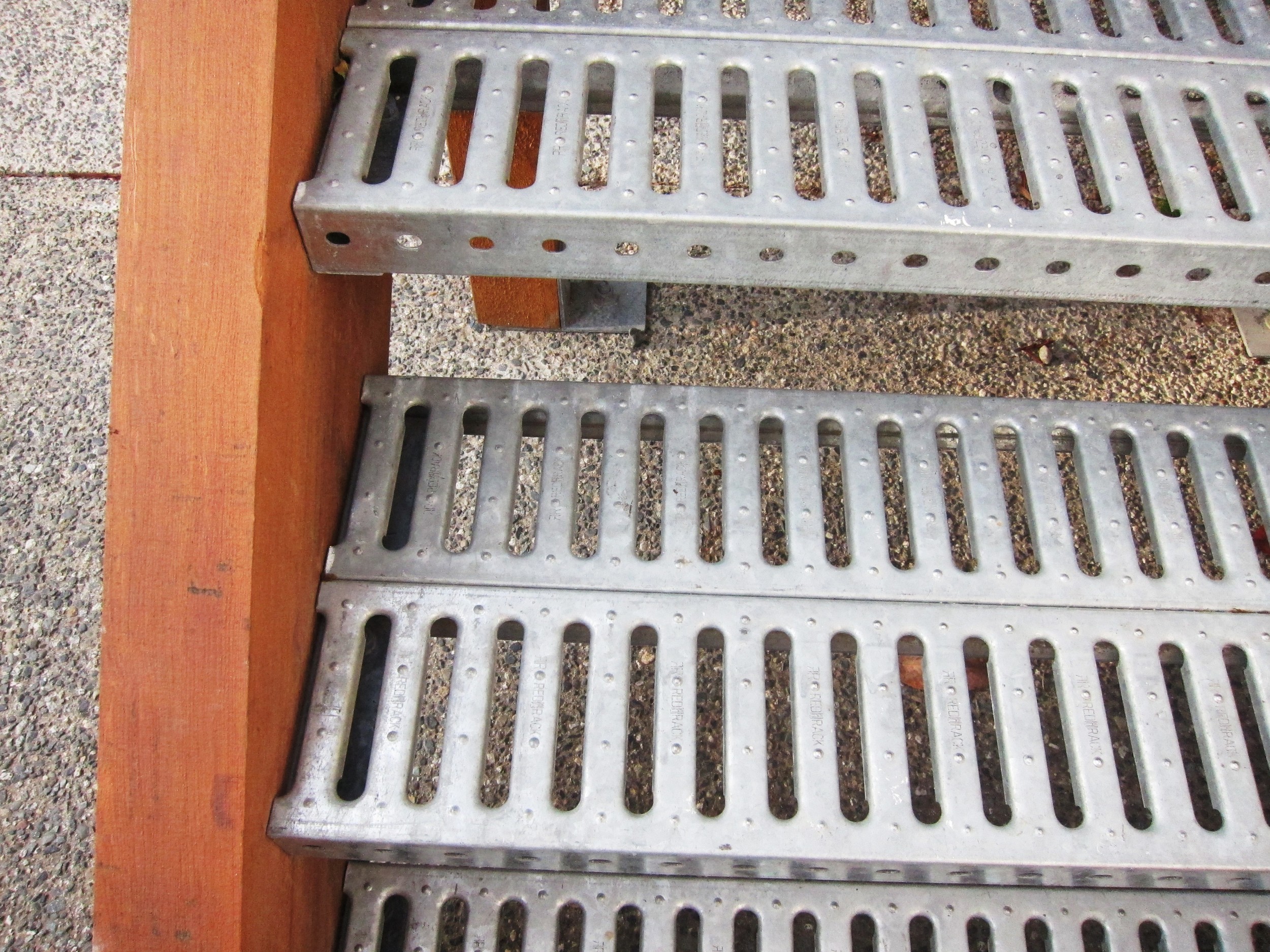 755 Terminal
Recycled galvanized steel cable trays used for stair treads.
755 Terminal
New solar daylight tubes as viewed from the roof. 
755 Terminal
Cast iron return air grilles.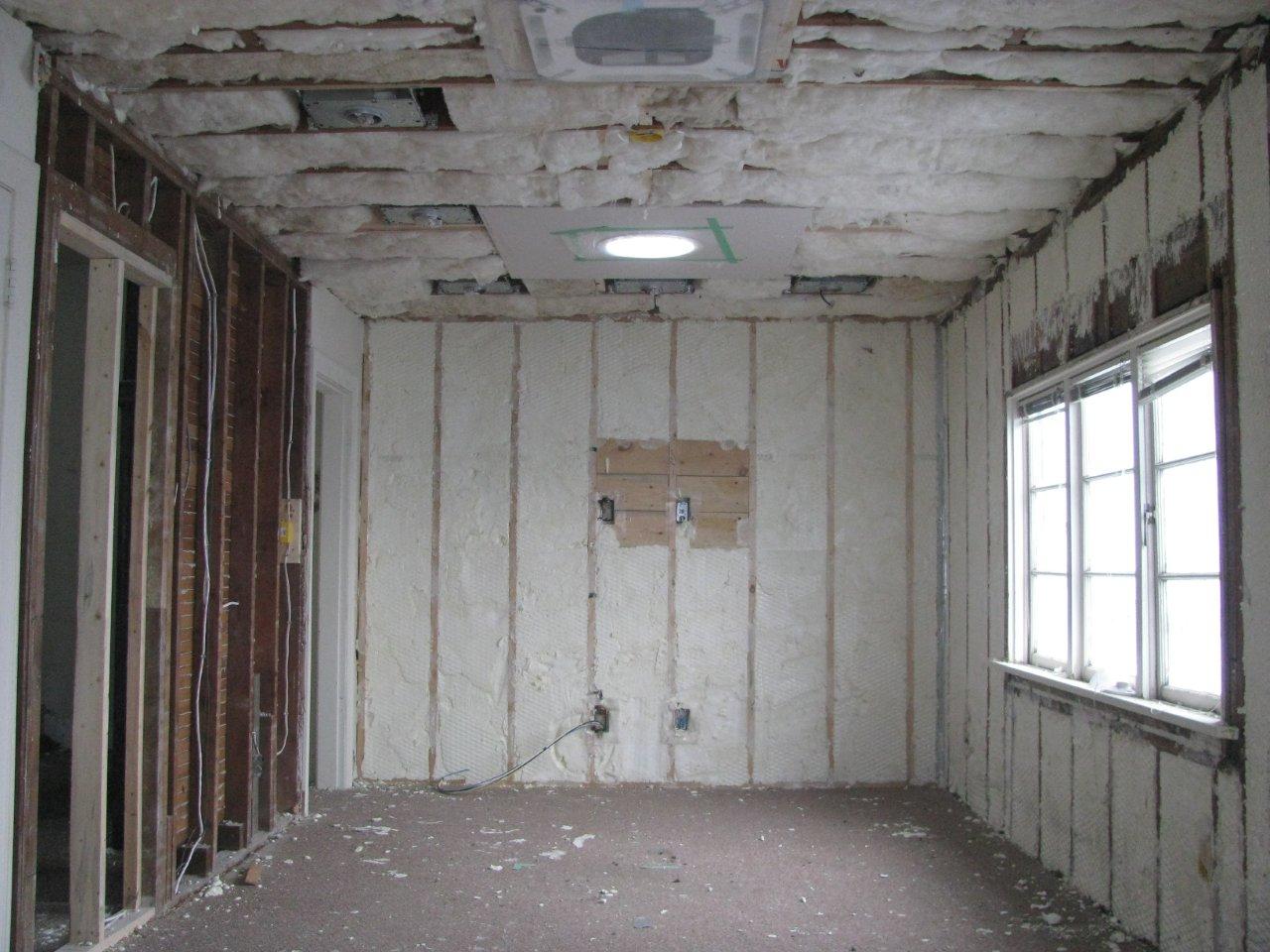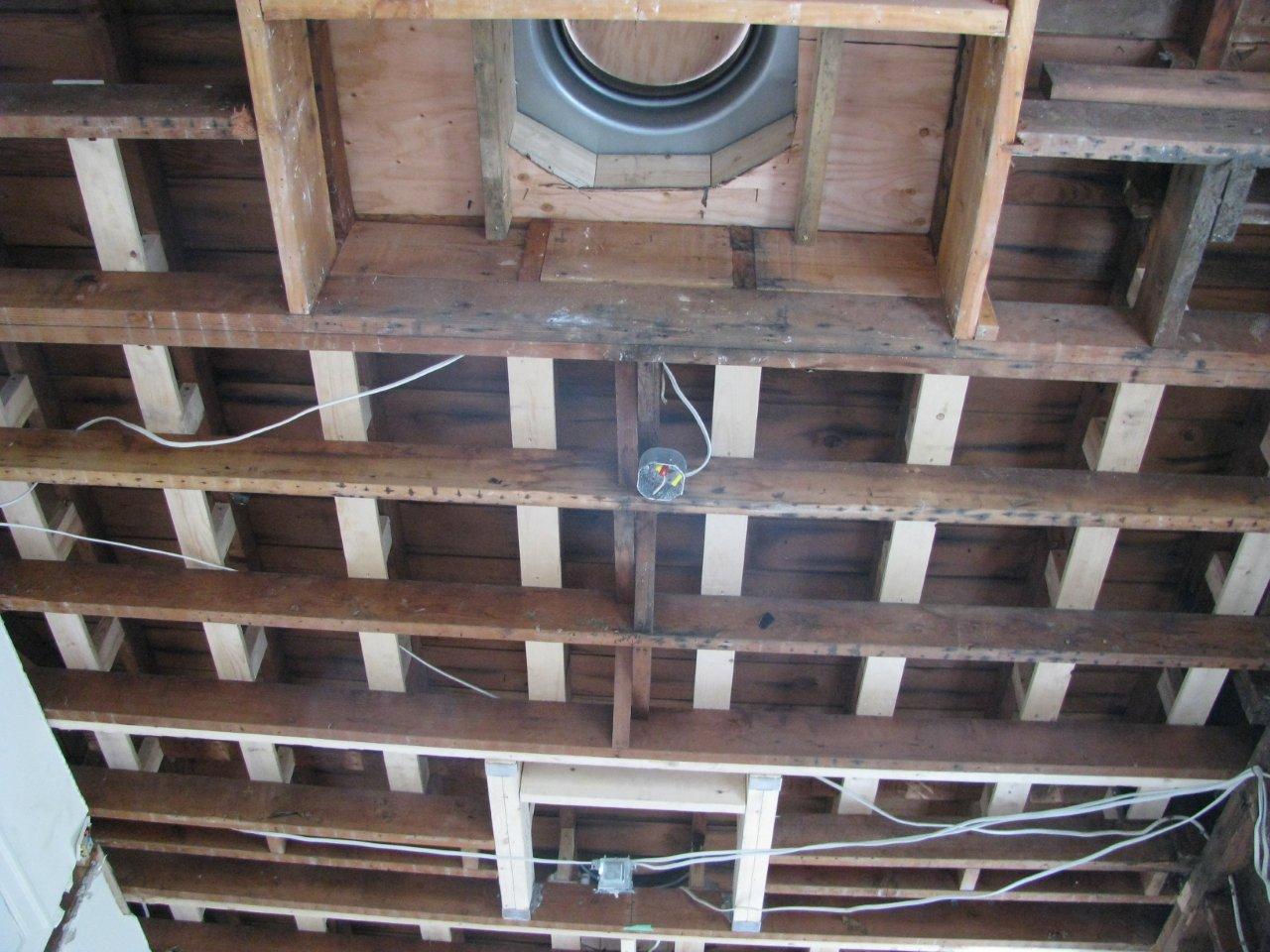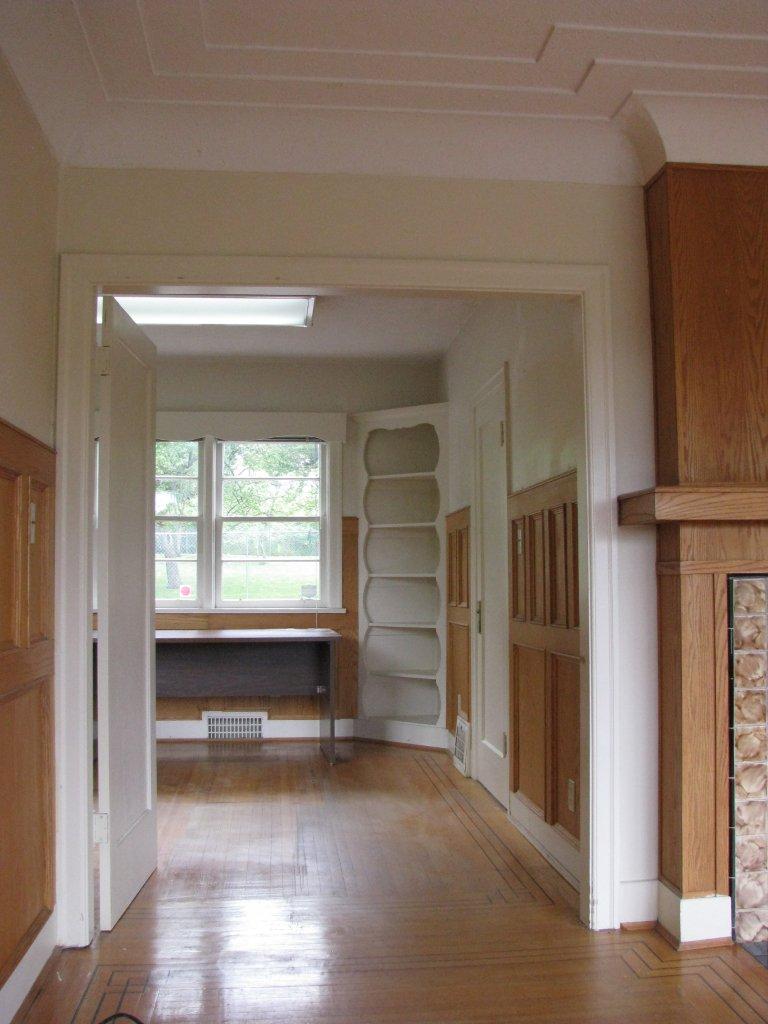 755 Terminal, Nanaimo, Vancouver Island, B.C.
Renovation to a previously converted heritage home. Built around 1945, the Wardill residence is one of the best provincial examples of the Streamline Moderne/ Art Moderne style. The house was originally designed by local architect Thomas McArravy. As little of the original interior remained due to previous renovations, a modern minimalist style was adopted for the interior in keeping with the design influences of the original style. Period reproduction furniture and Bauhaus inspired colour themes were added.
Sustainable features include solar daylighting tubes, recycled materials, upgraded insulation, HRV, multi split heat pump, renewable materials, low or no VOC paints, etc. Renewable materials include features such as custom modular bamboo workstations, fir countertops from demolished interior walls, and fir shelving from fascias of a demolished work project. Existing carpet and lino was removed and the original fir and oak floors were refinished. Many existing plaster walls/ ceilings were retained. Recycled materials were used such as galvanized cable trays for new exterior stairs.
The upper and main floor interior rooms were opened up for flexible use and daylighting.
Additional information on the history of the house, neighbourhood, and renovations, is available in book form for browsing or purchase at
http://www.blurb.ca/b/2678571-wardill-residence-755-terminal-avenue-n-nan aimo-b
Consultants:
General Contractor: Pheasant Hill Homes
Architect: Raymond de Beeld Architect
Structural: Sotola Engineering
Interior Colours: Universale Design