Roof Garden
Accessible roof garden off main entrance. Features outdoor patio and plantings with sedums, grasses, salal, creeping thyme, and decorative shrubs/ trees/ roses.
Front Entry
Covered entry with garage and patio/ visitor parking. Cistern located under. Patio/ visitor parking area surrounded by non native garden strips featuring 2 dozen different roses, heavenly bamboo, decorative grasses, and ornamental trees. Decorative treatment in patio area provides limited surface drainage and limits cracking of concrete finish over structural fill. Concrete walls (now covered with vegetation) provide durable support for vegetation and feature wrought iron gates.
Exterior Access
Exterior access via recycled industrial steel stairs to sunken native courtyard with fountain, with access to home office, each floor level, and pottery studio at the lowest level.
Main Entry
Main entry with views out to roof garden and lake. Roof features recycled glulam beams/ fir decking and heated concrete stained floors.
Living Room
Salvaged fir and glulam beams, with dimable halogen cable lights. Stained concrete radiant heated floor. Large glazed windows without mullions to maximize view and solar gain.
Winter Garden Room
Winter garden room with wall fountain and glazed exterior/ interior doors for multi-function use and large get togethers.
View From Roof Deck
View from roof deck under 5' deep roof overhangs. Upper roof drained via copper rain chains which enter the roof garden drainage system for delayed runoff. Roof deck also provides easy access to upper roof, heat pump, and solar hot water collectors.
View from Lake
Native riparian area along shoreline featuring salal, ocean spray, mature fir, cedar, arbutus, maple, and wild cherry.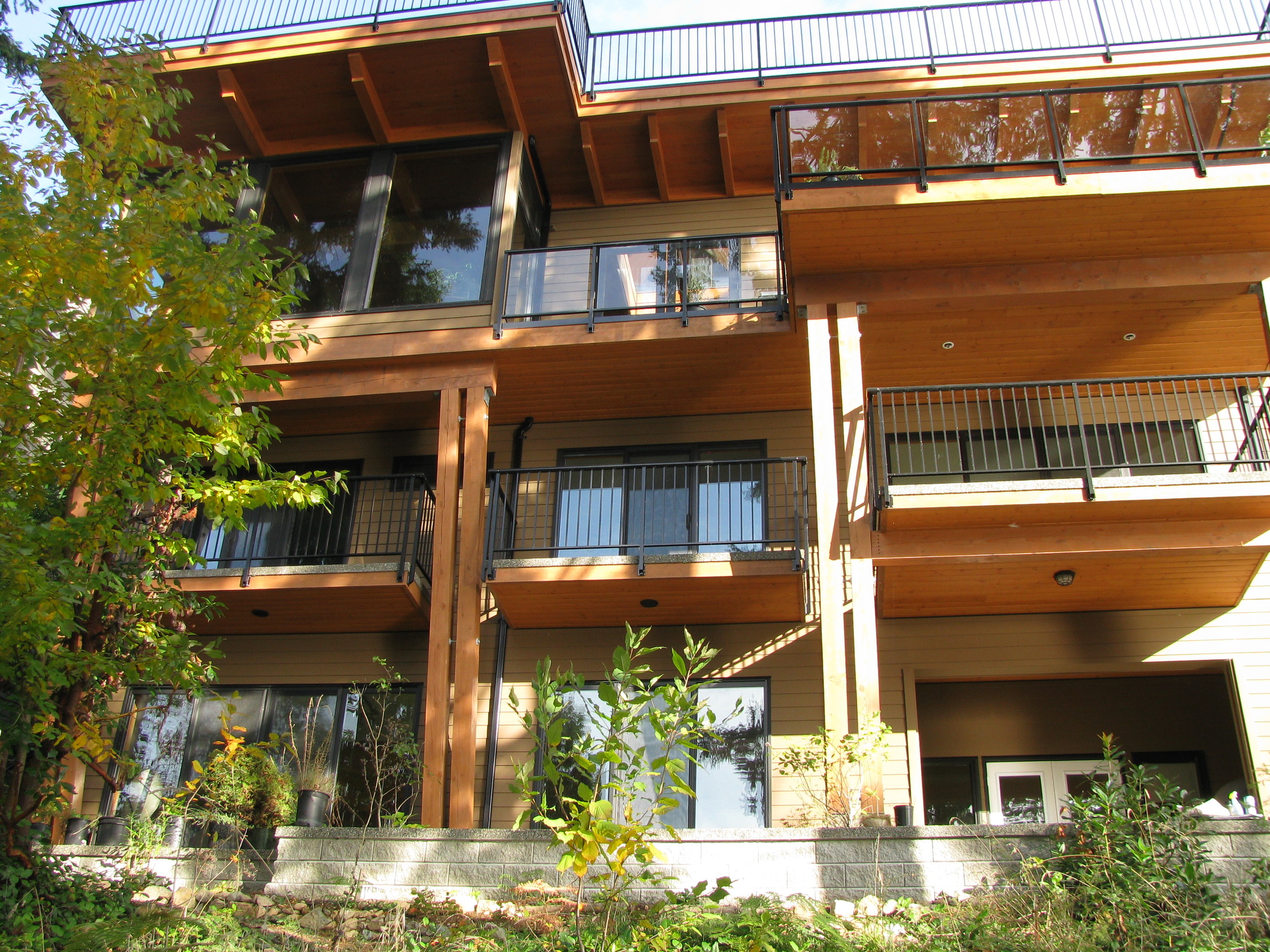 Cantilvered Decks
Cantilevered decks feature angled fir timber columns, stained to match adjacent angled arbutus trees. Angled columns and cantilevered balconies also allow maximum use without disturbance over riparian zone.
View Down from Roof Deck
View down to native riparian area and dock.
Concrete Floor Detail
Direction arrow composed of clear and stained exposed aggregate concrete floor, inset with the owner's collection of 'thunder egg' agates, petrified wood, natural copper nuggets, and gold leaf. Copper was considered a symbol of wealth and status by many first nations on the west coast such as the Haida.
Light Fixture
Decorative light fixture below pyramid skylight in interior courtyard/ winter garden room.
Interior Stairs
4 storey open riser interior stairway that acts as a 'thermal chimney' for natural ventilation. Treads made from recycled glulam timbers from the former Global Connections Cafe on Front Street, Nanaimo. Corridors feature fir door storage closets.
Long Lake Residence, Nanaimo
Four storey, 3,700 ft2, lakefront residence and pottery studio on a steep sloped treed south facing infill site. Contemporary terraced styled home in established subdivision. Reparian area along waterfront left undisturbed with mature fir, cedar, maple and arbutus trees. Cantilvered balconies with sloped heavy timber columns mimic adjacent colour and orientation of adjacent arbutus trees. Upper roof garden provides backdrop for main entry and access for flat recreational space. Garage/ entry, living, sleeping and studio located on separate floors, each with outdoor access. Main living area divided around an interior plant/ meditation multipurpose room with a pyramid skylight, all separated by glass french doors.
Sustainability
Constructed under the Built Green environmental program. Environmental features include salvaged glulam beams and fir decking, dead standing/ wind blown timbers, salvaged industrial steel stairs, rainwater cistern, green roof, native landscaping, riparian setback and enhancement, acid stained radiant heated concrete floors, high performance windows, energy star appliances, LED/ low voltage lighting on dimmers, low VOC finishes, passive solar design, solar hot water, heat recovery ventilator, radiant floor heating, and natural cross ventilation. Passive design features most of the windows with southern orientation with 5 foot overhangs, concrete topped mass floors with insulation under to store and transfer thermal heat gain in winter, cubic massing, insulated garage acting as thermal transition zone on north face, and majority of north facing walls below grade. Roof over living areas feature R40 continuous rigid insulation. Center of the house features an open tread timber stairway that acts as a four storey 'thermal chimney'. Built Green Platinum rated with an Energuide 83 rating (one of the highest Built Green projects in 2008).
Consultants
General Contractor: Superb Construction

Architect: Raymond de Beeld Architect
Structural Engineer: Sotola Engineering
Geotech Engineer: Lewkowich Engineering
Landscape Architect: Victoria Drakeford Landscape Architect
Interior Colours: Universale Design
Featured on "Island Homes", Shaw Cable T.V.