View from Bowen Road with pedestrian connection to Country Grocer.
Corner elevation with rainwater bioswale, timber soffit, clerestorey glazing, and integrated signage.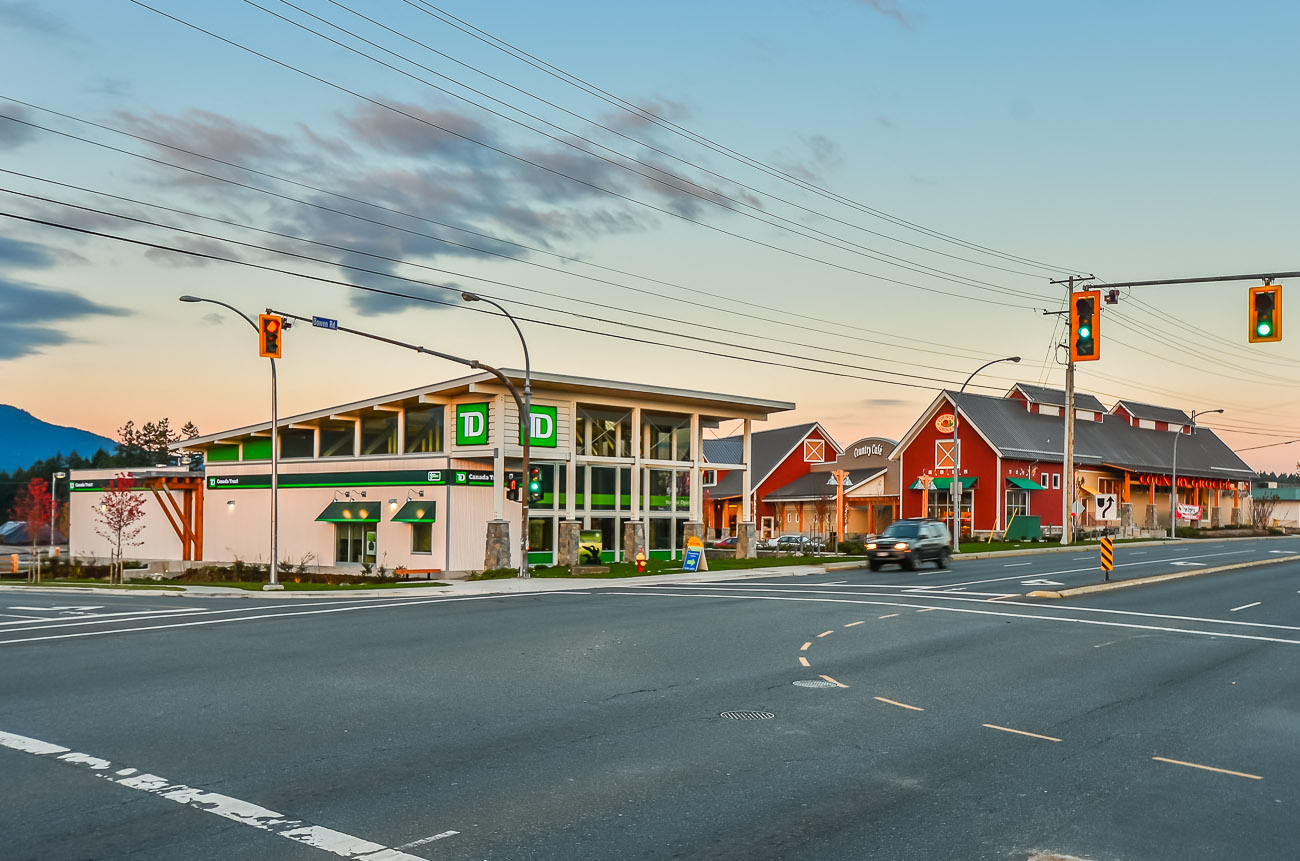 Feature galvanized steel rainwater scupper with backlit waterfall into bioswale as animated feature to passersby.
Stone veneer, heavy timber fir and laminated glass canopy with custom galvanized steel gutter along building, providing weather protection for pedestrians from parking lot.
Night view with uplit interior wood ceilings.
TD Bank - Bowen Road
This building marks a prominent street corner and defines a newly designated 'urban corridor'. The intersection forms the entry point into a new industrial subdivision and the new TD bank building is the first structure to be built. Setting a precedence, the building echoes Nanaimo's industrial heritage with the use of a simple shed roof, heavy timber, natural stone and metal cladding. The clerestory windows pro- vides natural light that filters through the wood roof trusses creating a natural and inspirational interior experience.
Rainwater is celebrated by expressing the rain water gutters and scuppers that direct water into surface bio swales. The simple shed roof directs rain water to the giant scupper. The glass arcade roof allows light to filter through the timber structure and enables the pedestrian to view the rain water spilling in to the customized metal gutter. The customer parking areas are designed to drain into permeable surfaces allowing the rain water to naturally filter before flowing into the larger bio swales located along the street edge. The bio swales act as additional filtering as well as water storage which delays the storm water run off.
Consultants:
General Contractor: Island West Coast Developments
Architect: Raymond de Beeld Architect
Structural: Herold Engineering
Mechanical: Rocky Point Engineering
Electrical: R.B. Engineering
Civil: Newcastle Engineering
Landscape: HB Lanarc