Entire roof drained from single heavy timber rainwater scupper reminiscent of past timber mining structures in the area. Upper floor exit accommodated and concealed within structure.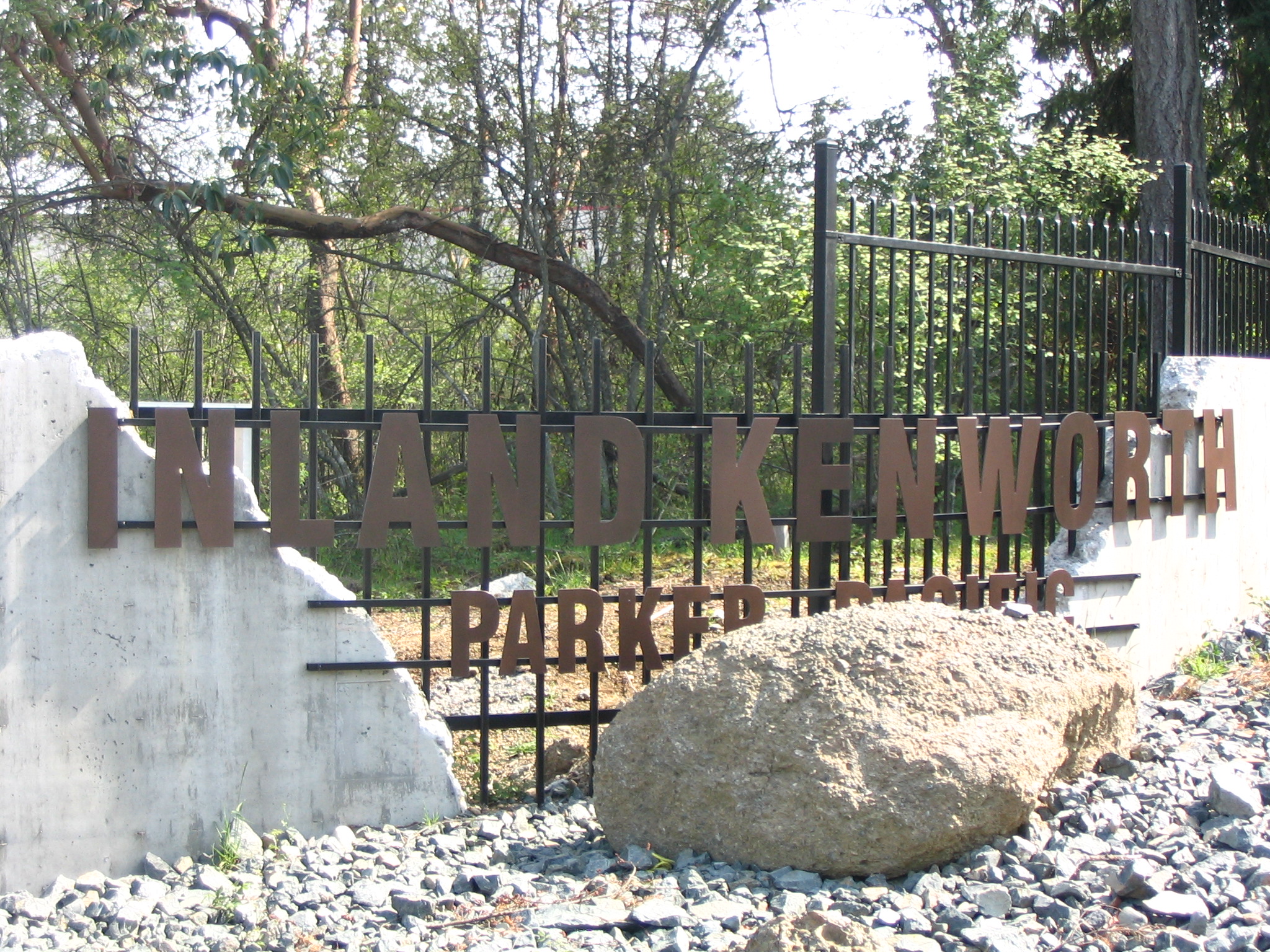 Steel security fencing and signage blended in with new rustic concrete walls at vehicle entry reminiscent of earlier industrial structures on site.
Polished concrete floors and exposed steel roof framing in retail reception area. Interior steel shear wall provides display space and views from perimeter offices into common area.
Concrete floors in service shop featuring enhanced light reflective finish. Overhead crane for heavy lifting of truck equipment for servicing.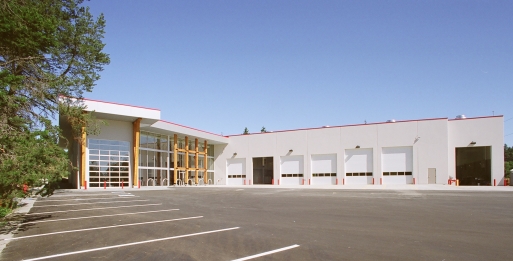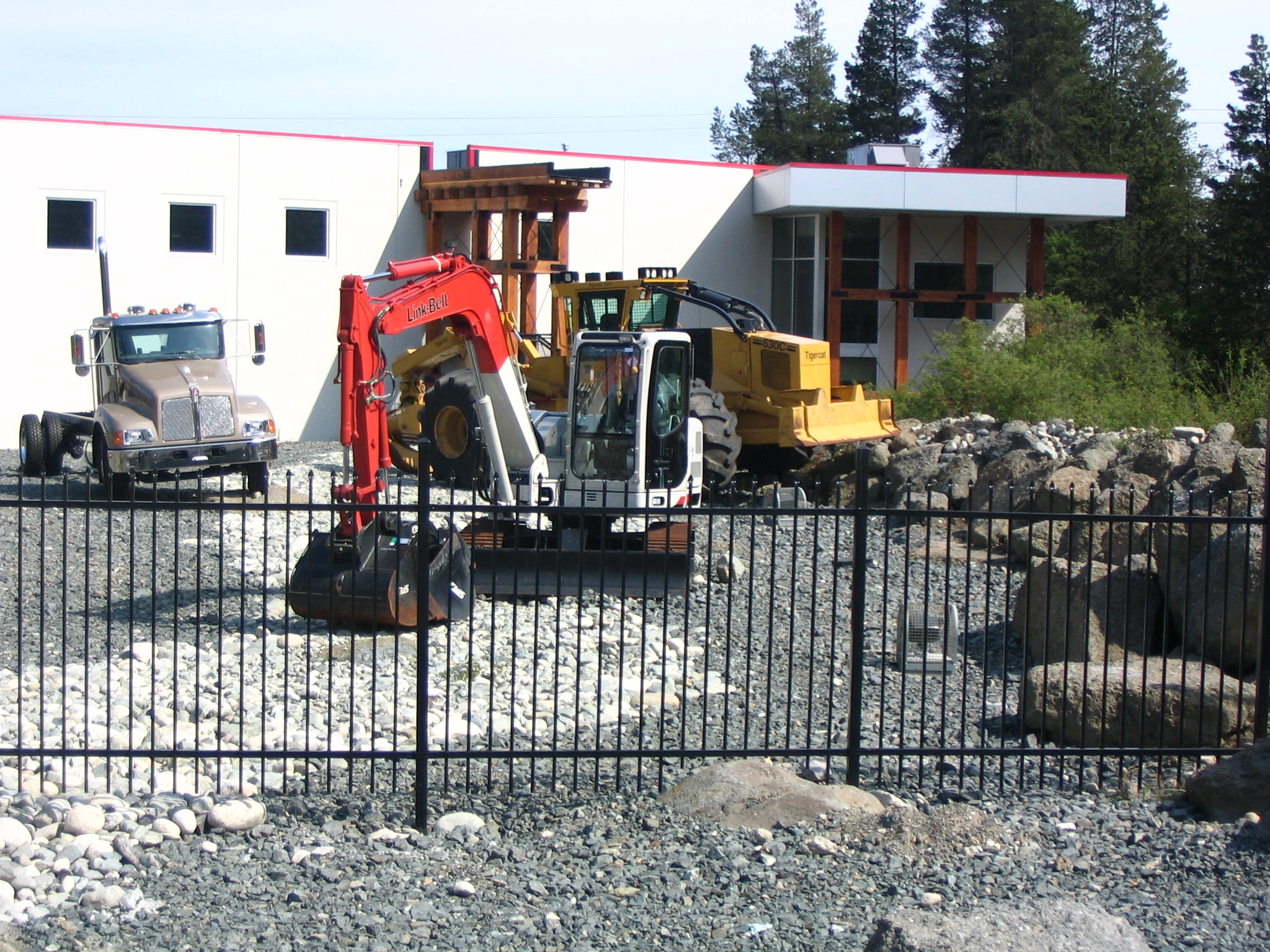 Exterior display of heavy equiptment for sale. No exterior signage from building permitted viewed from Nanaimo Parkway.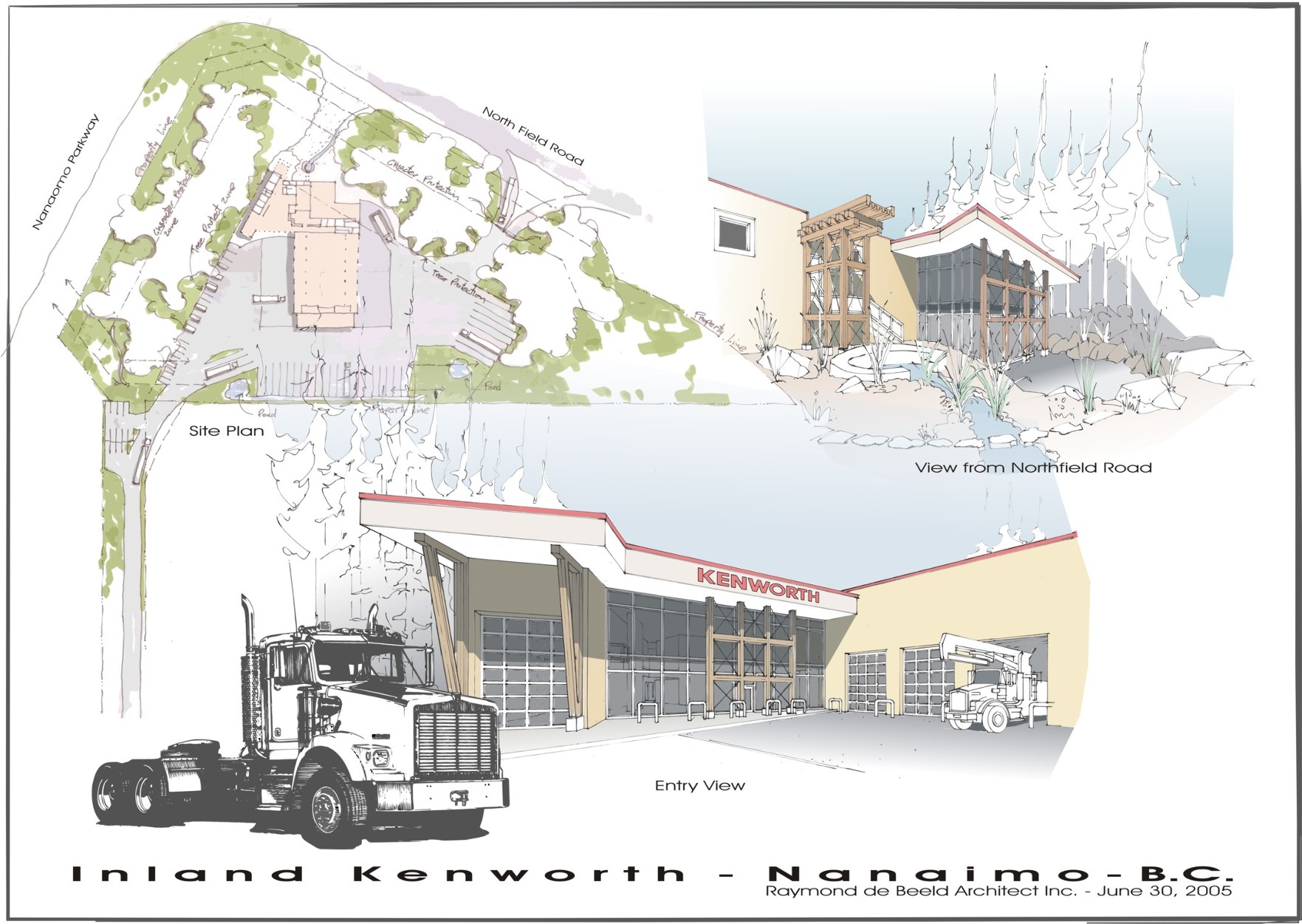 Aerial view showing dry drainage bed (piped roof drainage under) that flows into adjacent wetlands. Existing vegetation retained along Nanaimo Parkway and Northfield Road tree protection zones along perimeter streetscape.
Inland Kenworth, Nanaimo
Truck and heavy equipment dealership featuring administration, sales, parts, and service department. This industrial building is strategically designed to sit within the heavily treed zones along the Nanaimo Parkway and achieves a visual exposure without signage for the advertising needs of the owner via the display of heavy equipment in a controlled and regulated natural setting.
The rain water of the entire roof dramatically flows over a timber scupper then spills into a featured river bed delaying the storm water traveling into the adjacent wetlands. The site features native landscaping rain gardens, and portions of the site with pervious material. Heavy timber elements and 'eroded' concrete and steel landscape walls, echo the past industrial mining heritage of the site. Interiors of the administration feature industrial inspired railings, timber trims, natural daylight, and polished concrete floor. Shop features reflective concrete floor, dimable lighting, in ground service pit, and drive thru wash bay with recycled water for trucks and trailers.
Awards
The project achieved a City of Nanaimo Design Award, City of Nanaimo Green Award, VIREB Commercial Building Award, and is featured on the Water Bucket as an example of green sustainable integrated water management.
3,070m2 (33,000 ft2)

Consultants
General Contractor: Island West Coast Developments

Architect: Raymond de Beeld Architect
Structural: Herold Engineering
Mechanical: Rocky Point Engineering
Electrical:  Phillips & Brown Engineering
Civil: Newcastle Engineering
Geotech: Lewkowich Engineering
Landscape: Victoria Drakeford Landscape Architect