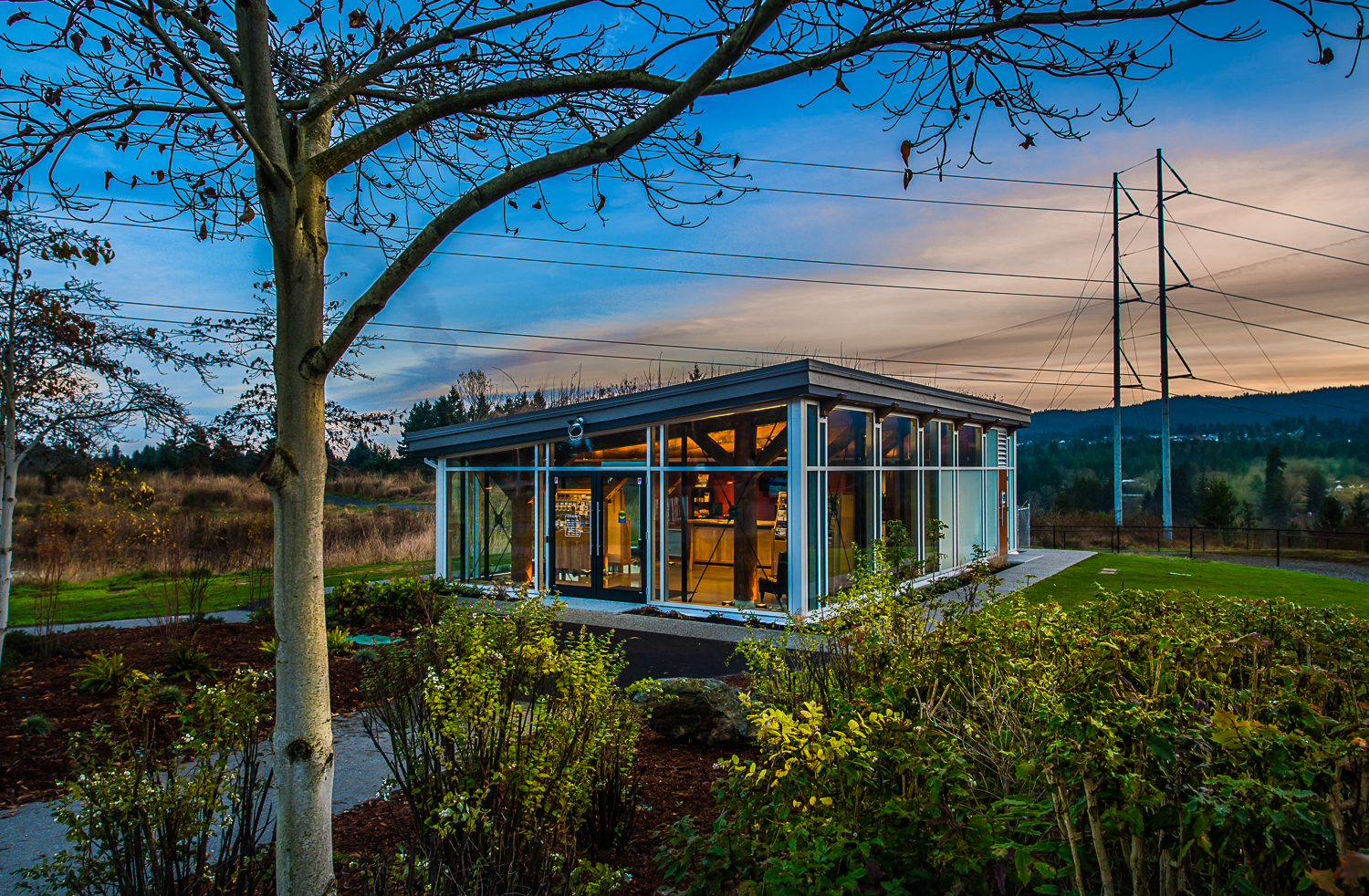 Northfield Visitor Centre, Nanaimo
Conversion of an existing grass roofed heavy timber open air washroom/ picnic shelter into a Tourism Nanaimo visitors centre, rest stop, and dog park. Features washroom, seismic upgrades, new building envelope, and energy efficient mechanical/ electrical systems (previously non existent).
The heavy timber structure, grass roof, and stone work make reference to the former coal mining history of site. A glazed facade was chosen to provide transparency of and contrast to the existing heavy timber structure, visibility to highway, security of the remote location, and views of adjacent natural features/ outdoor picnic area/ dog park. Translucent insulated laminated glass provides diffuse daylighting, security, and graffiti resistance. A polished concrete floor with in slab radiant heating, metal grating, provided for durability and adds to the industrial character of the building. Loose stone around floor perimeter provides a visual and tactile warning of the low column brackets, seismic cross bracing, and oversized curtain wall glazing. Spray foam insulation was added to timber joist ceiling cavities and masonry walls, as well as continuous installation under the new concrete floor slab/ footings. The reception desk and display racks were designed with wood to add warmth, local identity, and rustic character of the building interior. Recipient of V|REB award.
Consultants
General Contractor: Saywell Contracting
Architect: Raymond de Beeld Architect
Structural: Herold Engineering
Mechanical: Rocky Point Engineering
Electrical: R.B. Engineering
Geotech: EBA Engineering