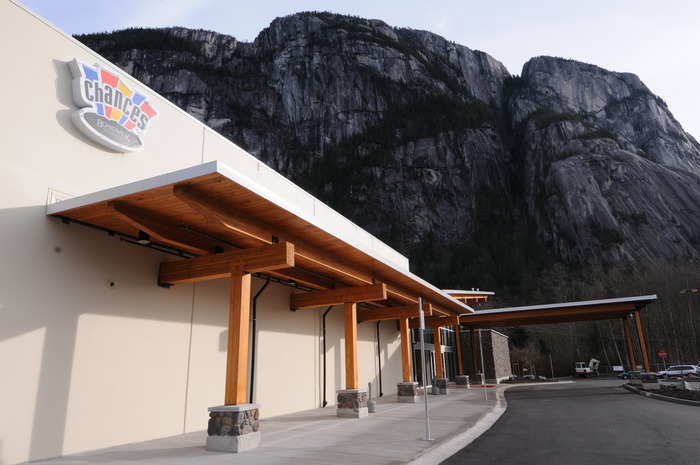 Community Gaming Center, Squamish
Located on First Nations Land, the building form pays homage to the "Chief" with its prominent glazed lobby and sloping timber roof structure. This 23,000 square foot gaming facility also provides, a restaurant and outdoor terrace that takes full advantage of the southern exposure and the spectacular view of the mountains cliff faces. The interiors feature native artwork and references to Squamish as the outdoor recreation capital of Canada.
Consultants
General Contractor: Axiom Builders Inc.
Project Manager: Al Watt
Architect: Raymond de Beeld Architect
Structural: Krahn Engineering
Mechanical: TD Systems/ Professional Mechanical Systems/ Bycar Engineering
Electrical: Nemetz (SA) and Associates
Civil: Beesely Engineering Ltd
Geotechnical: Geo Pacific Consultants
Landscape: Victoria Drakeford Landscape Architect
Interiors: Hager and Associates
Land Consultant: Allen Concepts
Kitchen: Russell Foods
Environmental: ECL Envirowest Consultants